Part of an email from Mike (vocals) from The Jury. "To provide some context, in the picture where Joe is soloing on his knees and people look like they're laughing - they are. We started our set with a cover of "Taking Care of Business" by Bachman Turner Overdrive, which is by far the most important thing any of us have ever done as musicians or as people..."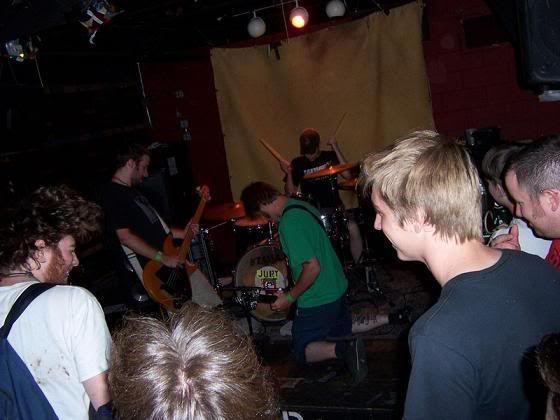 Such comments can bring a bad photo to life, and more than likely sums up the approach to music of Albany NY's The Jury. Against better ocular judgement (the cover poorly depicts the Statue of Liberty sinking into the ocean with two deck chairs placed on the beach), I picked up a copy of their debut EP, I Hate The Future. Contained within that abomination of graphic design was some raging mid-tempo hardcore, dripping with the claustrophobic rage I could really relate to. Rage of the late-twenty-somethings who, on paper, have done approximately nothing with their lives. A rage borne of too much coffee, hanging out with your friends a little TOO much, and after a few beers almost coming to fisticuffs with each other 'cos that prick DARED to argue that Paintbox are over-rated. I got in contact with Mike about getting copies of their next 7" and a split with Total Fury, and he seemed like a bit of a character. Along with the records, he sent another graphic eyesore that was a "Panarchy Violence" t-shirt, so I fired off a few questions, mostly because I wanted to find out what was with the ugly artwork fetish, and how do the Jury make the eyesores come alive.

THE ATTENTION: Who is in the band, what do they play?

KENNEALLY: Brisley plays bass, Kenneally sings, Maurizio plays guitar, Murphy drums. We've had a bunch of other dudes in the band that did other stuff. We have a pretty solid lineup now.

A:

You guys are from Albany, NY. From my rudimentary knowledge of geography, Albany is upstate from New York City. How much interaction is there between the scenes? Can you give us a rough history of upstate NY hardcore punk? Did anybody go to Albany Academy from the Born Against song?

K:Thanks for knowing that Albany and NYC are two different places, that's better than most Americans. We are about 2.5 hours north of New York City. New York doesn't have any kickass bands, except Disnihil. We played two shows there in a week and there were no local bands. It's baffling that the city that gave the world Urban Waste, Reagan Youth, and AF has turned into either hipster jerkoffery or, even worse, bands that think pop-punk is cool.

Historically, the Albany scene is pretty strong. In the mid 80's, there was a strong VFW hall/skatepark scene that was a pretty crucial hub on the major tours of the day: 7 Seconds, Descendents, Suicidal, AF, JFA... etc. Also, take a look at your Life's Blood EP. That was before any of our time but there's a couple comps (Albany Style, Welcome to Albany, This Town We Own) that documented the scene for what it was. Look for Capital, Fit For Abuse, and No Outlet from that era. In the 90's there was the underappreciated DIY scene that spawned Devoid of Faith and Monster X, the Disenchanted and others. You can find their records in dollar bins. It's a shame. Currently, there's some pretty sweet bands - Nuclear Family, Outa Comission, and Legit. Despite being shit on by the "cooler" scenes, we do alright for ourselves.

A: How did the split 7" and tour with Total Fury come about? Also, having a crack at Gauze's 'Crash The Pose' is pretty bold, both musically and the fact that it's an anti-vegetarian song. Why this song?

K: Nate asked us to do the tour and it finally came together in spring 2007. We basically got schooled every night opening up for them. "Crash the Pose" is one of the easier GAUZE (god band!!) songs to play, it only took us 30 or 40 tries at practice to get it sounding somewhat decent. We picked it because TF covered SCREAM and we thought it would only be right to cover a Japanese classic. Calling it "an anti-vegetarian" song is simply a matter of perspective, who wouldn't like to put their dingus in tofu then pour soy sauce on it? I dunno about the whole whale meat part, that might just be a translation issue. No death threats yet so hopefully Shin and co. thought it was OK. I'm amazed they even know we have a band that played their song in the basement then recorded it.

A: The distro I bought your first EP from described The Jury as 90s Cleveland meets 80s Japanese hardcore, which I think is pretty much on the money. How much of an affinity do you feel to the often written about Clevo loose cannons? What do you think of the obsession that a lot of 'western' punks (myself included) have with Japanese hardcore, which many claim to be over-hyped at the expense of smaller scenes such as those in South East Asia?

K: Cleveland is great. It's like a Disneyland for drunks and drug users. Every time we go there we have a blast. Japanese hardcore is fetishized, it's true, but it's hard to say "no" to the over the top awesomeness of the classic records that came out of and still come out of Japan. I'd like to elaborate on the previous statement more but I can't.

A: Speaking of Japanese hardcore, I noticed you used a GISM parody on a t-shirt. Do you think it's kind of corny to do humorous tributes to punk's serious past, even though everybody does it? What the hell is Panarchy Violence anyway?

K: OMG! LOL! There's only like 15 or so of those shirts, we played a show that had a pancake buffet in March. We played with this indie rock band that had this girl I had a crush on. I thought playing some rude thrash and using GISM imagery on our shirts would score me some points. That's why I made the shirts. We played last for some reason and totally sucked because we were all too wasted to play. It didn't work, believe it or not. In exchange for disregarding the second half of your question, I'd like to point out that I used the phrase "We played" three times so far in response. We played with ourselves after our van broke down once, too.

A: I like how the lyrics are really blunt and simple angry rants on everyday life. Not specifically 'political', more like something you would yell at your boss at the fast food joint before you threw down your name badge and stormed out. What do you guys do with your time outside the band?

K: Being in a hardcore band, I try to use the "three line Discharge style" of writing lyrics, they're mostly based on observation of shitty social situations or people I hate that hopefully you'll never meet. Brisley works in a copy shop, I am a substitute teacher, Maurizio works in a paint store, and Murphy works at the mall and talks about the guy from the Stereo Store didn't call him back after he popped his cherry.

A: Punk has a pretty high turnover of people involved, at least in most countries, with very few people sticking around after their early 20s. From the bitterness expressed in The Jury's lyrics, I'm picking up that most of you are in your mid to late 20s, like myself. I also saw the YouTube footage of you guys playing in a basement, maybe even at your own house? What keeps you fucking around with this kids stuff? Do you ever feel like the dude from Dazed And Confused that says, "You know what I like about high school girls? I get older, and they stay the same age"?

K: Fuck it, what else are we going to do?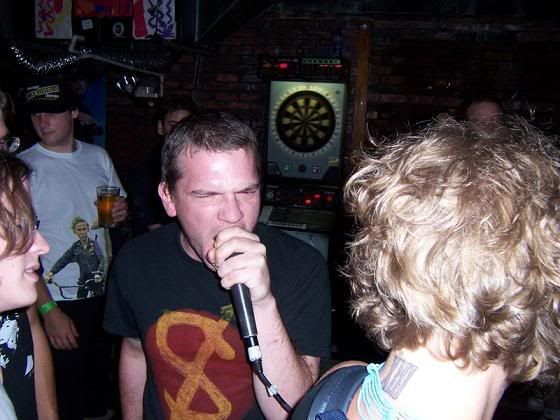 A:

What's it like having records out on Gloom, run by very nearly controversial character Nate Wilson? Did you only agree to do it if Das Oath quit doing pointless records? Is there any truth to the rumour of him bootlegging the Bastard 'Wind Of Pain' LP (I meant this to be the Controlled In The Frame 7" -ed), thus hindering its official reissue? If that were true, I'd run 'em out of town. Also, tell us about Electric Mayhem records.

K: Nate didn't boot BASTARD. C'mon, that record has a small hole! Electric Mayhem sent them a birthday cake full of speed with a hacksaw inside so we are repressing "Wind of Pain". But seriously, EM is the label I put out our records on off of student loans (EM-001) and not paying off my student loans (EM-002). Send some demos, I'll get even more into debt. Our roommate Chris does a label that put out the other half of the 2nd Jury EP, he also repressed the Tragics "Mommi I'm a Misfit" EP that I omitted from the above Albany scene spiel. Besides, Nate already went to Brooklyn so he's hot shit paying $4-238-26782-5124 for rent right now.

A:

Discharge or Bad Brains? Explain.

K: I'm wearing my "WHY" shirt right now so I gotta go with Discharge.

A:

What have you got in store for the near future, and any last words?

K: Hopefully, California tour this winter to get the fuck out of the snow. I want to trade for a copy of the first Scientists lp. Write us.